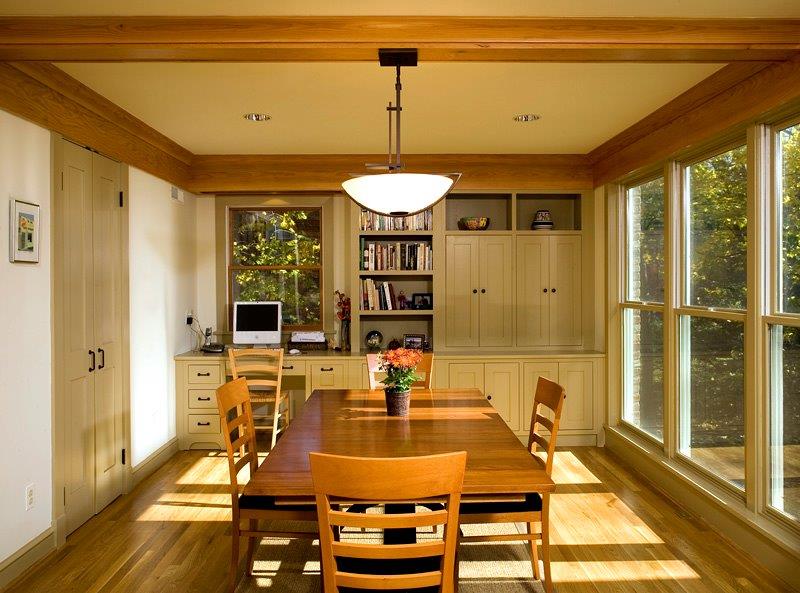 THE ORDINARY ROOM — EXCEPTIONALLY RENDERED
Want to Keep Down The Clutter And Present The World With Pretty Lines?
By John Byrd
If there's a juncture where craftsmanship enters home remodeling, it's the "built-in". In the remodeling industry the term is broadly applied. It can mean drawers tailored to your cutlery; shelves sized for special books.
In the simplest context, a "built-in" is basic carpentry; at the higher end—it's art.
Soren Jensen, principal of Danish Builders, produces work that notably falls in the artful end of the range. His originals—ranging from everything to a hand-crafted interior, to a garden trellis to a wine cellar—grace some of the most fashionable addresses in northern Virginia, Montgomery County and the District.
Recently he designed an interior to a Capitol Hill home for a Congressman. A wine cellar in Potomac has garnered national media attention. Yet he'll design a mud room in Great Falls: a solution that converts a footprint between garage and kitchen into space so attractive the owners leave the door open just so they can see the effect from the kitchen table.
"When we're working as the general contractor and designing the built-ins, there's no middleman," Jensen says. "It's an arrangement keeps the client's dollars concentrated on not only building, but my efforts to produce exceptional design."
Typically, Jensen starts with exacting measurement of this clients home; presents schematics and other drawings. Often the homeowner evinces interest in design styles and especially in special woods, stones, specialty materials– which most be procured from selected sources.
As a rule, the wood employed in a project is milled and treated in Jensen's 3,500 square foot woodworking shop, then transported to the client's home where it is painstakingly assembled.
It is work with requires a mastery of logistics, one of the reasons the remodeler is so popular with busy professionals.
"There can be complicated considerations to creating work that will standout," Jensen says. "My job is to figure out all the logistical, procurement and processing issues, and see that the project happens without surprises or set backs. When you and the client have mutually agreed to a high bar there are always challenges."
Still, a quick assessment of recent work highlights the standard succinctly. From entire rooms to simple cabinetry, one finds a combination of elegant understatement and distinction that is Jensen's signature style.
For instance:
Handcrafted breakfast room
Like something out of a fairy tale, a handcrafted breakfast room not far from the Potomac impresses the eye with its linear simplicity, then slowly reveals an underlying aesthetic perfect for its woodland setting.
Hand-tooled ceiling trim, window frames and inset cedar shake cabinet facings evoke the fine design traditions, yet the room is equal parts warm and homey.
Maple throughout, Jensen sized, prepped and painted the many constituent parts in his shop, then assembled on site to the enthusiast plaudits of the homeowner who wanted similar ideas in another part of the house. A library followed.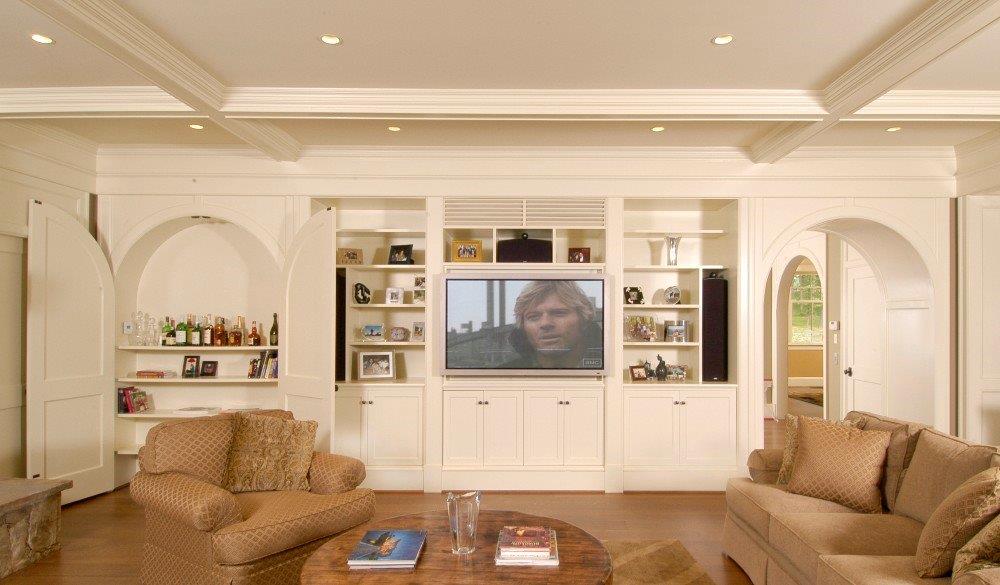 Arching 18
th

 Century Elegance

It is not merely the pair of matching arched doorways in the family room of this 8,000 square foot country home, but the same icon visibly reiterated in the adjacent dining room.

With graceful curved moldings and a hand-crafted keystone, Jennings borrows classic 18th century protocol, then sets up symmetrical relationships that establish a soft formality.

Matching book cases, coffered ceilings, a perfectly-centered cubby for the plasma TV and speakers– all counter-balanced by display shelves created for favored collectibles and photos. Nearby, a convenient recess for cordials and brandy snifters.  A relaxing and graceful family room.
Cadenza and Backwall Set Post-Modern Tone
A postmodern interior that fools the eye in almost every respect, the cadenza, backwall and plasma TV frame boldly highlighted in shades of platinum, blond and straw are, in fact, made from weng, a hand-assembled veneer that is created by cutting and milling maple into "slices" so fine that the grain patterns can be discerned in their deepest minutia with the naked eye.
A cut which captures a straight and uniform grain is especially prized.
Slices are then playfully transposed over one another in a search for a compelling– even iconic– combination of layered patterns.
The selected slabs are mounted, positioned and carefully laminated presenting completely unique natural wood surface.

Classic Window Seat Gains New Function
"Ideas for built-ins are often simply an inspiration that occurs in the process of executing an assignment", Jensen says.
Working in a kitchen half-buried in an avalanche of household maintenance literature, "to do" lists and documentation, the remodeler hit on the happy idea of adding pull-out drawers inside a window seat to a home in McLean
The decorative cabinet facing is so understated that visitors never suspect there are usable drawers under the bench so comfortably occupy   unless one is accidentally left open.
Soren Jensen periodically offers tours of his woodworking facility. FOR INFORMATION: 301/279-0255 or www.danishbuildersinc.com
_______________________________________________________________________________
John Byrd has been writing about residential architecture, building and remodeling for 30 years. His work has appeared in House Beautiful, Architectural Digest, Southern Living and many national and regional publications. He has also written and produced segments for HGTV and other cable outlets. His work has received numerous Press Association awards for excellence in journalism.
He can be reached at byrdmatx@comcast.net or www.HomeFrontsNews.com