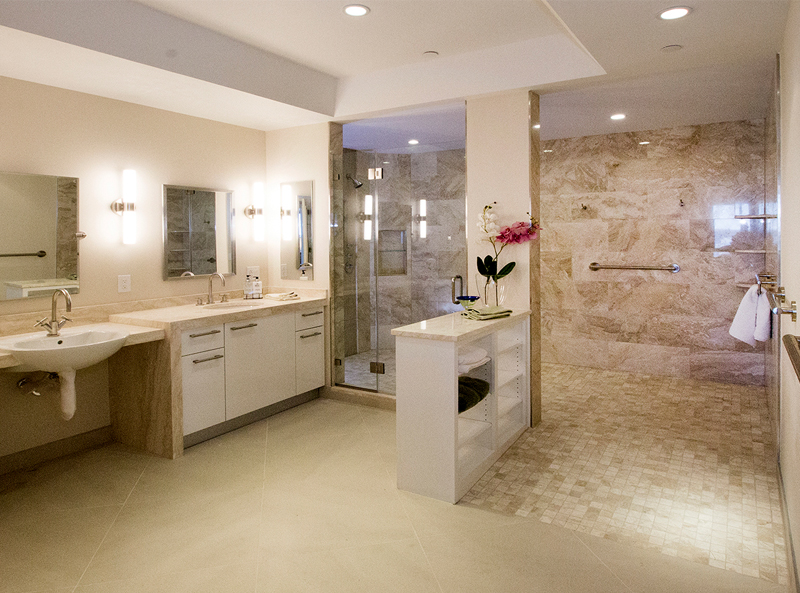 Converting an apartment's traditional bathroom into a wheel-chair friendly spa.
By John Byrd
Looking at trend lines, it is evident that older homeowners want readily-available therapeutic solutions, even in quarters that might once have been considered too small for larger amenities.
A north Arlington condo dweller struggling with a progressive neuro-degenerative disorder recently decided during a stay Florida that in the time had come to convert his apartment's traditional bathroom into a wheel-chair friendly spa.
Despite the off-premise challenges, the owner asked Russ Glickman of Glickman design Build to complete the makeover before his return from the sunbelt—a period of about four week.
Experienced with condo build-out requirements, Glickman established the project's logistical priorities immediately and went to work
Presented with some design option limitations, the remodeler selected finish work details on the owner's behalf, careful to make choices that could be accommodated within the tight timeline.
The resulting solution was honored with a Chrysalis award for the nation's "best accessible bath design." Among the stand-out amenities: a wheel chair accessible shower; a sink and toilet complete with strategically placed grab-bars, skid-proof tiling.
Glickman periodically offers workshops on accessible living and Aging-In-Place topics.
IFOR INFORMATION: see www.GlickmanDesignBuild.com, or call 301/444-4663.
_______________________________________________________________________________
John Byrd has been writing about residential architecture, building and remodeling for 30 years. His work has appeared in House Beautiful, Architectural Digest, Southern Living and many national and regional publications. He has also written and produced segments for HGTV and other cable outlets. His work has received numerous Press Association awards for excellence in journalism.
He can be reached at byrdmatx@comcast.net or www.HomeFrontsNews.com