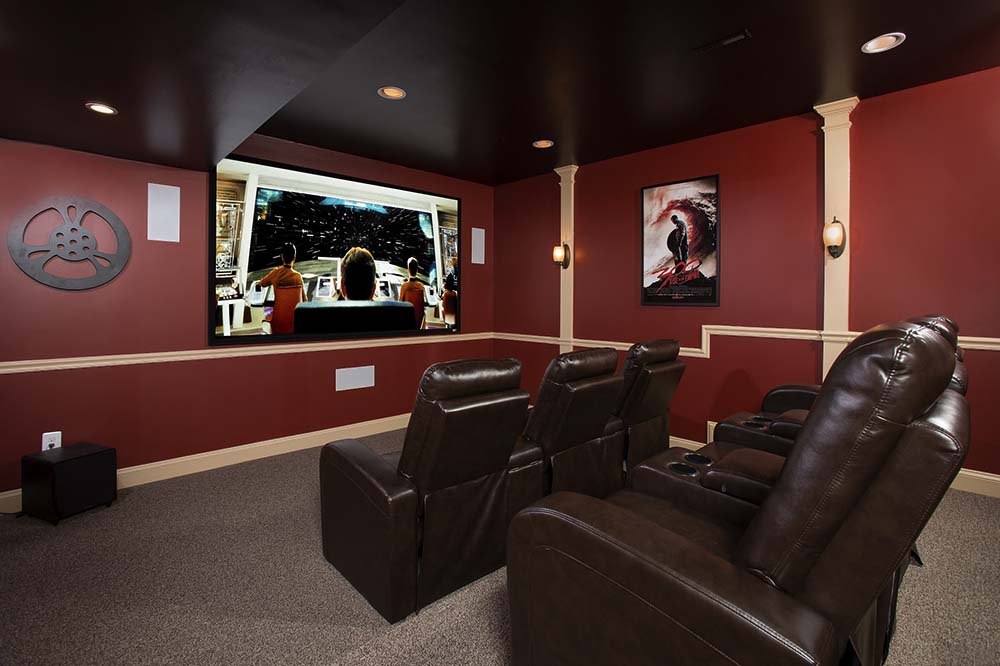 Basement Remodeling in Northern Virginia
LOWER LEVEL ENTERTAINMENT SUITE JUDGED WASHINGTON-AREA'S BEST BASEMENT REMODEL IN $50K TO $100K RANGE
Michael Nash design solution satisfies busy family's broad agenda
By John Byrd
A comprehensive family-entertainment suite introduced into a previously unfinished 2,200 square foot basement has won a "Contractor of the Year" (COTY) award for Michael Nash Kitchens and Homes.
The design solution, which integrates an open floorplan with several independent activity and gaming rooms, was executed in the Lorton home of Angelo and Eleni Linardakis. The project was named "best basement remodel in the $50,000.00 to 100,000.00" by the metro DC chapter of the National Association of the Remodeling Industry last month.
In accepting the prize, Michael Nash president and founder Sonny Nazemian pointed to the many ways in which the American home is being radically changed by new requirements.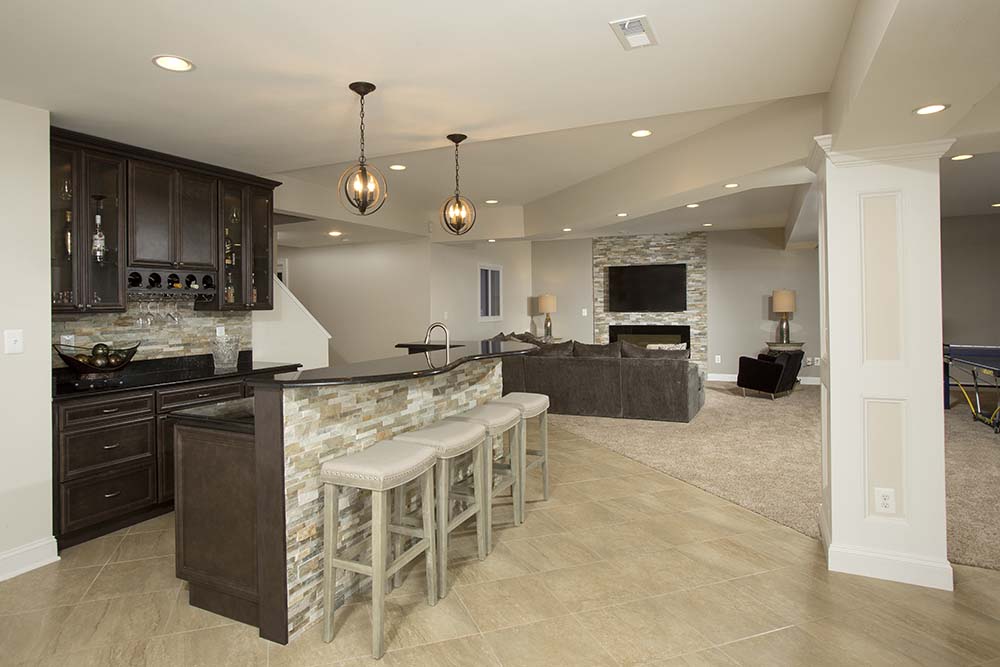 Gathering place. To create a countertop for the bar large enough to accommodate five, designers fabricated a kidney-shaped surface top out of black galaxy granite. The backsplash and counter base are faced with Golden Honey ledgerstone. Flooring is almond-colored porcelain tile set in diagonal pattern. Pendant lights from the Equinox collection have an antique bronze finish.
"Owners are increasingly interested in more personalized, longer-term uses for their homes," Nazemian said. "The remodeler has to satisfy a broad agenda of needs–often arising within the same family– which may require more engineering and interior design skill than was typically available from a single source in years past. The focus of this firm has always been to stay ahead of evolving needs, and to provide customers with an informed awareness of what is possible."
For the Lindardakis family, the remodeling process began last year with a simple assessment of goals and priorities.
"We purchased the house with the unfinished lower level– before our first child was born," says Angelo. " As the children grew–they are now nine, six and four– I knew it was time to convert the lower level into a place the entire family could enjoy. We had lot of ideas, but no real clarity about how to put it all together.
A news article about a Michael Nash project, however, followed by a visit to their Lee Highway showroom soon started the research process in earnest.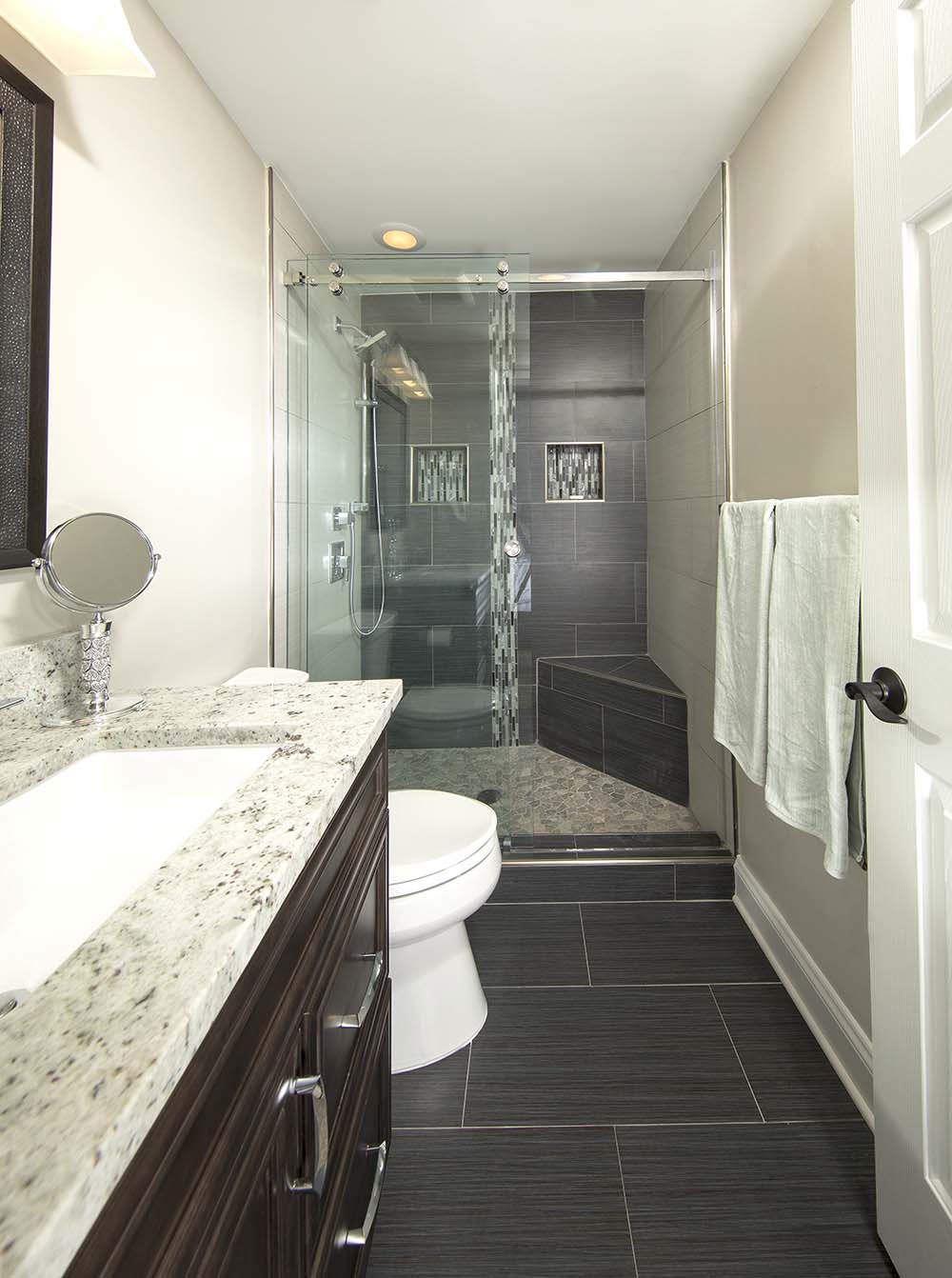 "The show room is comprehensive," Angelo recalls. "I was getting a lot of ideas by just walking around. Then one of the designers began sketching out a floorplan almost as soon as I asked for input. Before I left, I had an estimate based on cost-per-square foot which I found reasonable. I didn't look elsewhere after that."
But the core problem with re-doing the lower level was structural: the two upper floors were supported by beams attached to solid steel vertical supports which were situated in the middle of spaces the owners wanted to convert into open floorplan.
4a Guest bath/ Full bath. With a 15 square foot walk-in shower and many luxury fixtures, the full bath can also be used for cooling off after a session in the exercise room.
To the make the proposed build-out feasible, Nazemian and team would have to insinuate a thirty foot horizontal support beam balanced on new vertical supports flanked to either side of the nearly 800 square foot open area. Two of the existing support beams were then eliminated.
With the structural requirements resolved, attention turned to the satellite private-use components– exercise studio, home theater and guest quarters– and to developing an interior design scheme that would work for the whole.
"The only source of natural light in the lower level came from a course of windows on the west-facing rear elevation which looked out into the back yard," Nazemian says. "When a lack of available light is an issue, we have found that interior design that emphasizes lighter, neutral colors and textures can generate a great deal of warmth in rooms that are appreciably below grade. This is partly psychological, yet enormously effective– the very essence of what good interior design requires."
These goals in mind, 150 square feet on the west-side of the new stair case was designated for the bar and refreshments area. As a zoning solution, the space is within easy reach of a corner spot designated for a fireplace and TV viewing zone, and a few steps from floorspace near the windows allocated for Foosball, ping pong and other games.
To set the tone for the interior design scheme, Nazemian and team designed an eye-catching counter space and back bar that percolates with soft tones and textures.
Exercise Area. An elliptical bike, treadmill, bench press and bar bells are available in the family's exercise room. A wall-sized mirror on the left provides a visual means to track work-out progress. The rubber floor absorbs sound.
The backsplash and counter base are faced with Golden Honey ledgerstone. Almond-colored porcelain flooring tiles are laid out diagonally.
To form a bar countertop large enough to accommodate five, Micheal Nash designers fabricated a kidney-shaped surface out of black galaxy granite.
Overhead, pendant lights with an antique bronze finish provide a golden glow.
The suite's ceiling and walls are off-white, but the wall on the inside staircase is taupe. Throughout, a subtle checker-board interplay of lights and darks softens the angularity of bulkheads; support posts empaneled in duotone wood facings are, likewise, capped with crown moulding.
The ledgerstone motif is repe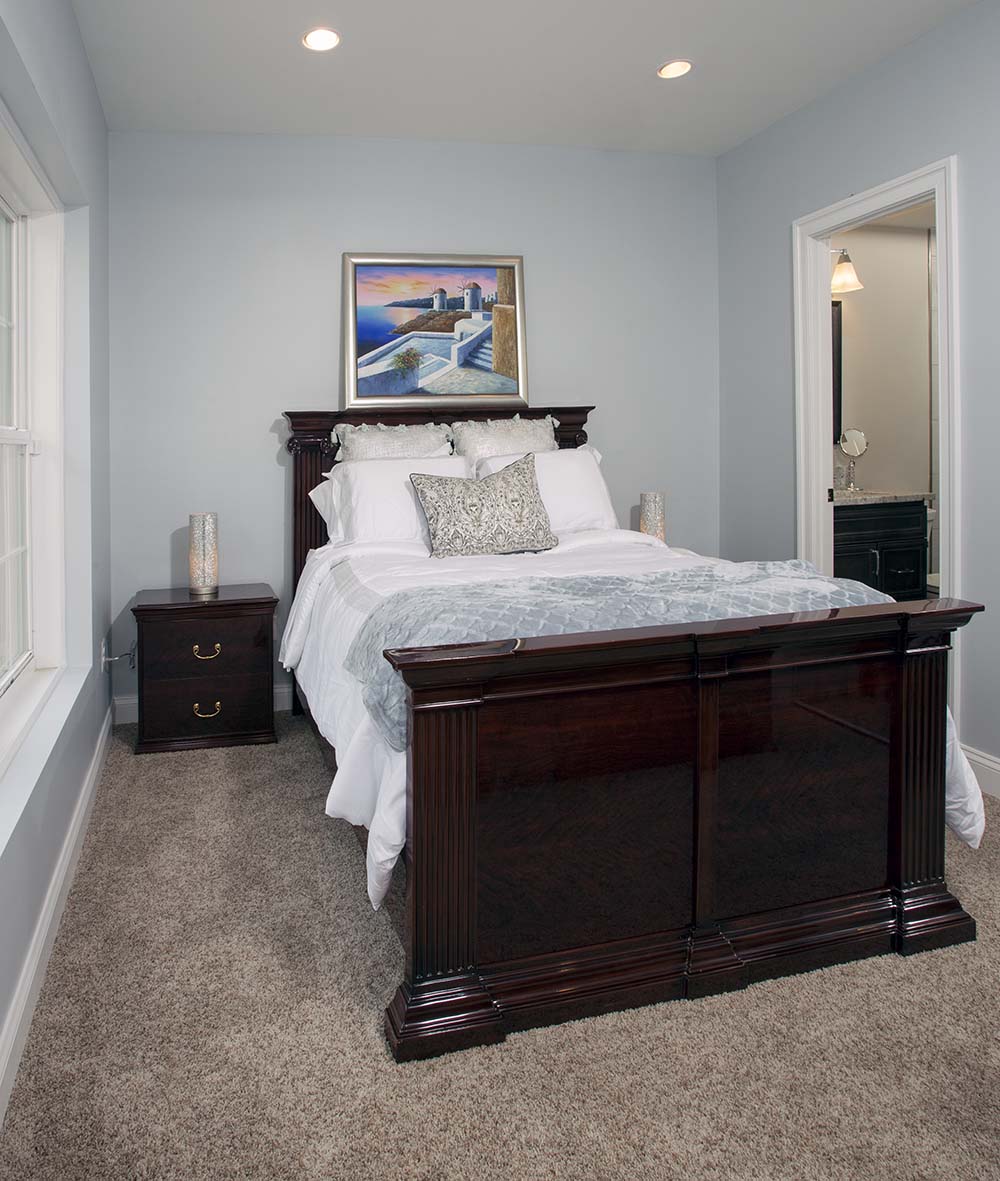 ated in the media viewing zone where a a five foot linear fireplace parallel to a flat screen TV presents a striking postmodern image.
In all, the primary gathering concourse is over 1,000 square feet– enough for gatherings of eighty to one hundred, Angelo says.
Guest bedroom. Situated away from the satellite of entertainment zones, 13′ x 12′ guest quarter offers an en suite full bath. The egress window (left) satisfied Fairfax County code requirements, and offers a pleasant view of the back yard.
But the suite also provides well-differentiated accommodations for quieter pursuits, and in these aims the plan succeeds admirably, as follows:
Home Theater: turn left at the bottom of the stairway and left again, and one comes to a pair of double French doors that access a 15′ x 14′ home theater featuring an HD projector screen and six reclining leather chairs on two tiers raked for optimal viewing. In addition to playing movies, the HD projector screen is hooked up to a video gaming station and Amazon TV. Borrowing appropriate interior design detail, the black ceiling, burgundy walls and white pilasters adorned with period lighting scones evoke a classic pre-1930s movie house ambiance, yet the room is thoroughly sound proofed;
Exercise area: immediately across the hall a second pair of French doors open into an exercise salon complete with an elliptical bike, treadmill, bench press and bar bells. A wall-sized mirror on the outside wall provides visual means to track work-out progress. The rubber floor absorbs sound.
Guest quarters: Situated away from of entertainment zones, a 13′ x 12′ guest quarter offers an en suite full bath. An egress window added to satisfy Fairfax County code requirements provides a pleasant view of the back yard. A useful addenda for a large family with out of town relatives.
Looking back, Angelo Linardakis is particularly pleased with the "flexible process" engineered by Michael Nash:
"His approach allowed us to move forward quickly, while making some adjustments without extra costs," he says. "We are now considering building out a dedicated wine storage room, and adding a grilling area just outside the new lower level. It all makes good sense for us at this stage in our lives."
For Information: 703/641-9800 or MichaelNashKitchens.com
—————————————————————————————————————————————————
John Byrd has been writing about residential architecture, building and remodeling for 30 years. His work has appeared in House Beautiful, Architectural Digest, Southern Living and many national and regional publications. He has also written and produced segments for HGTV and other cable outlets. His work has received numerous Press Association awards for excellence in journalism. He can be reached at byrdmatx@comcast.net or www.HomeFrontsNews.com
—————————————————————————————————————————————————